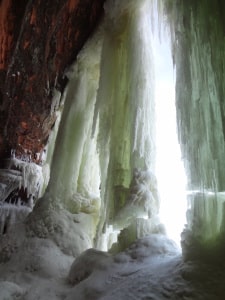 Outdoor activities for all seasons.
Birchwood and the surrounding area has many outdoor activities to choose from. Hike The Birkie Trail in Hayward, Snowshoe the Ice Age Trail or snow mobile the Tuscobia Trail in Birchwood. There are  many golf courses to choose from.  When staying multiple nights venture on up to The Ice Caves at Apostle Islands for a full day of exploring. Your possibilities are endless. The scenery is breathless. Whether you stay one night at The Cobblestone  B&B or a week there are plenty of fabulous outdoor  activities to keep you busy and healthy.  These are just a few activities that Northern Wisconsin has to offer. Once you start to venture out you will see why The Birchwood/Hayward area is known as "God`s Country". Hunt Hill usually has something fun to indulge in, like making your own set of snow shoes. If you choose water sports, Wisconsin has more than 10,000 lakes to choose from. For the little ones Hayward offers a unique petting zoo called Wilderness Walk. This is a big hit with the kids. After all this outdoor activity, you will truly look forward to coming back to The Cobblestone Bed and Breakfast for a nice massage in one of our unique tubs. A walk through Copper Falls and a soak in our Copper/Nickle tub can`t be beat.
Apostle Islands/Ice Caves
Beautiful Pictures, Videos and Info
A must see for Winter Guest!
Ice Age Trail
Trail Map
Contact: Fred Nash
715-353-2948
Christie Mountain
715-868-7800
W13755 County Rd. O
Bruce, WI 54819
Hunt Hill Audubon Sanctuary
715-635-6543
N2384 Hunt Hill Rd.
Sarona, WI 54870
Tuscobia State Trail
All Terrain Trail
1-800-269-4505
Access Trail at Hwy 48 & Main Street
Birchwood, WI 54817
Wilderness Walk
715-634-2893
9503 Wisconsin 27
Hayward, WI 5483
Birkie Trail
Maps, Trail Reports and
more found on this site.
Hwy 53 & OO
Hayward, WI  54843
Copper Falls State Park
715-274-5123
36764 Copper Falls Rd
Mellen, WI 54546
Turtle Back Golf  Course
715-234-7641
1985  18 1/2 St.
Rice Lake, WI 54868
Fishing, Boating and Swimming on more than 10,000 Lakes